Acupuncture Vancouver
About Dr. May Wang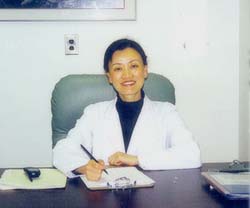 Dr. Wang is a registered doctor of Traditional Chinese Medicine, a registered acupuncturist in BC, an instructor of Traditional Chinese Medicine, and a member of the BC Qualified Acupuncturist & Traditional Chinese Medicine Association.
After attaining her M.D. from Chongqing University of Medical Sciences, China, she worked as M.D. in a hospital. During her 15 years of practicing Western medicine and Traditional Chinese Medicine, she developed effective treatment therapies. She was not only dedicated to clinic practice, but also to clinic research and instructing students of medical schools.
Coming to Canada in 1997, she began to practice Traditional Chinese Medicine in Vancouver. With her extensive experience, and professional moral and enthusiasm for patient's benefit, she earned her recognition with her patients. Meanwhile, she has also been an instructor of clinic practice in Vancouver.
During her practices, she observed that many of her patients were suffering from allergies. She felt it was her duty to battle this disorder. She has successfully used her knowledge and experience of practicing Traditional Chinese Medicine and the allergy elimination technique of NAET to help her patients.
Click here to read a letter of reference for Dr. Wang
About Sungwoon Tjen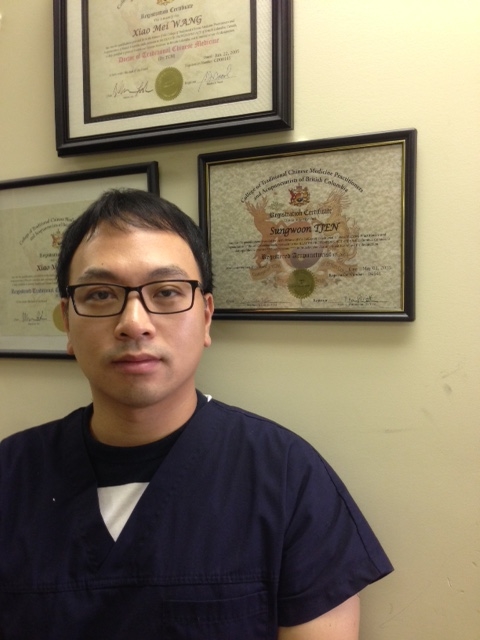 Sungwoon is a registered acupuncturist (R.Ac.) of CTCMA (College of Traditional Chinese Medicine Practitioners and Acupuncturists) of British Columbia. He had his Bachelor of Science degree at Simon Fraser University and finished his 3-year of Acupuncturist program at International Collage of Traditional Chinese Medicine (ICTCM) of Vancouver, where Dr. Wang is teaching as an instructor. He has successfully passed the Acupuncture license exams in 2014 and started his own practice at China Acupuncture Clinic. Although he is a recent registered acupuncturist, he has gained various clinical experiences from working as an assistant at China Acupuncture Clinic for years. He has helped Dr. Wang's practice in great degree by providing each patient therapeutic TCM modalities such as Tuina, acupressure and sports massage therapy, scalp massage therapy, cupping therapy, electro-acupuncture therapy, and/or ear-seed therapy Sungwoon also has participated in other TCM related volunteering activities such as Taiwanfest hosted by Tzu Chi foundation to broadly spread the effectiveness of acupuncture and Traditional Chinese Medicine.
Now as an acupuncturist, Sungwoon promises that he would do his best to fully and carefully understand a patient's current condition and provide an accurate diagnosis to maximize the effectiveness of the treatments. He would serve each of treatments combining with all possible TCM modalities to help patients contend with any issues listed in Acupuncture Services, especially concentrating in pain managements - acute/chronic back pain, sciatica pain, shoulder / neck pain, tennis elbow, golfer's elbow, knee / ankle pain, etc. He promises to provide all the clients with comfortable and enjoyable acupuncture treatments just like what Dr. Wang has provided in her practices. Sungwoon now accepts new clients of his own. Please book with him for Tuesdays or Wednesdays.
Ryan Jaw (R.Ac.) 趙傳義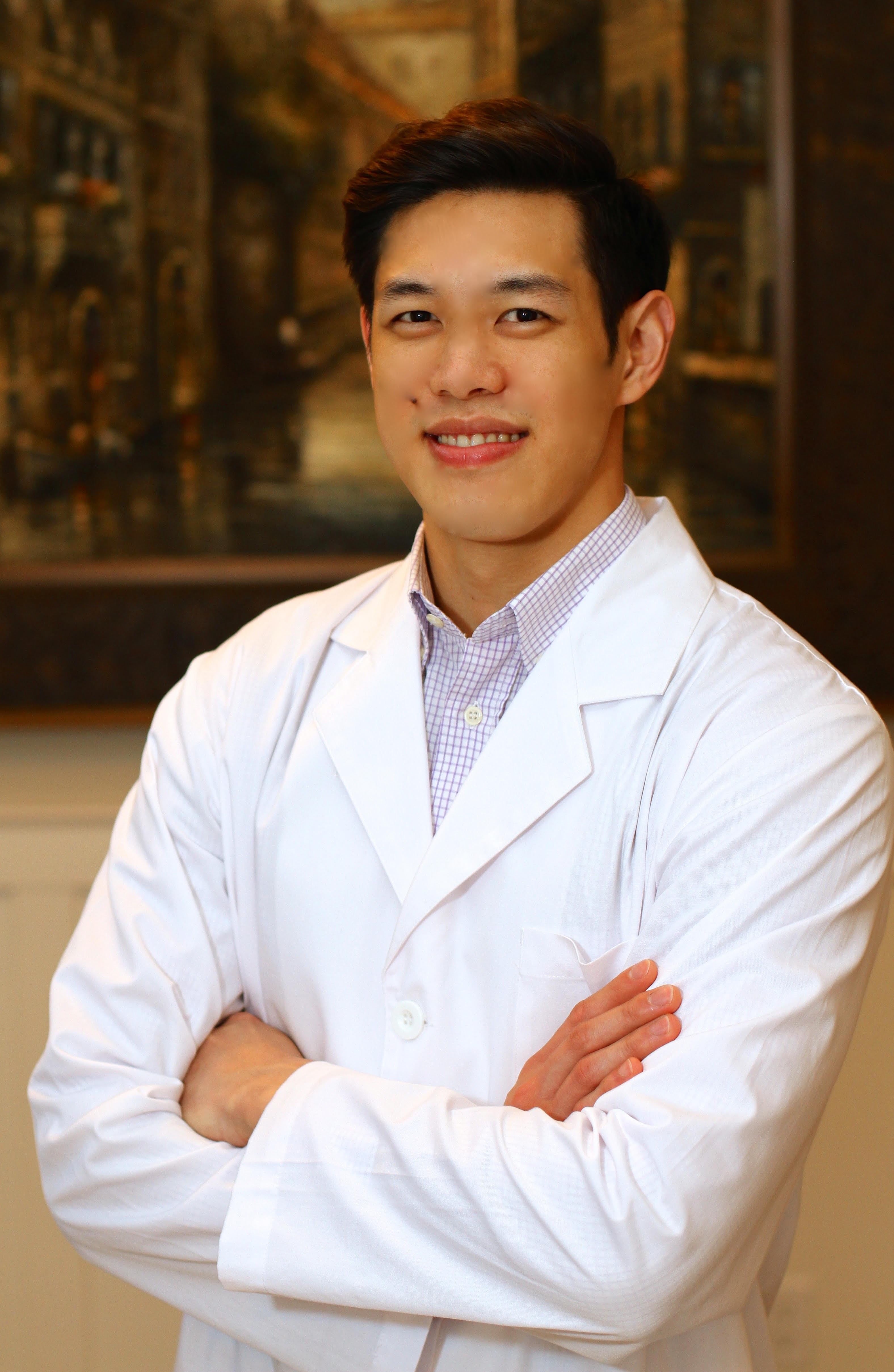 Ryan has always had a passion for helping others; from teaching young children to volunteering at GF Strong Rehabilitation Centre. He graduated from York University in Toronto with a Specialized Honours Degree in Kinesiology and Health Science. Since a young age Ryan has always been involved in many sports but mainly hockey and baseball. He has seen various types of injuries (soft tissue: muscles, ligaments, tendons, etc.) that have affected many athletes at different stages in their career and life after. Many injuries he had seen were treated with only Western medicine/therapies with little or no help and others with a combination of Western and/or Traditional Chinese Medicine which had great results. How could some tiny little needles and some glass cups help someone in pain? Ryan's fascination with Chinese Medicine grew from there as he continued his education at the International College of Traditional Chinese Medicine of Vancouver.
Ryan has been very fortunate to have many great teachers along his journey to becoming an acupuncturist and Dr. May Wang is clearly one of them. Dr. May Wang was his clinical instructor and helped him to where he is today. With pain and stress being one of the biggest problems in our society today he has seen and assisted Dr. Wang treat countless patients using acupuncture, electro-acupuncture, cupping, ear seeds, bleeding therapy and more. Acupuncture is great for treating pain but can help with many other problems as well; for more information please see the Acupuncture Services section for more detail.
In the summer of 2015 Ryan was intern at Renai Taipei City Hospital and a well known Traditional Chinese Medicine Clinic in Taiwan known for treating Stroke, Dementia, Parkinson's, and other severe chronic diseases. The knowledge and experience he gained has been monumental in progressing his passion and knowledge of Acupuncture and Chinese Medicine techniques which will be carried on to treating his own patients. His vision for the future is to see Western and Eastern (Traditional Chinese Medicine and Acupuncture) medicine and professionals able to work in collaboration with each other as they each have their own unique roles in maintaining and living a healthy pain-free lifestyle.