Acupuncture Vancouver
Dr. May Wang
Registered Doctor of Traditional Chinese Medicine (TCM)
Registered Acupuncturist in BC
Over 28 Years of Clinical Experience
MD in China for 15 years
Allergy Elimination Techniques (NAET) Certified
Instructor International College of TCM of Vancouver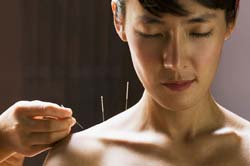 Welcome to Acupuncture Vancouver by China Acupuncture Clinic. China Acupuncture Clinic is located in the Oakridge area of Vancouver, BC Canada. Dr. May Wang provides Acupuncture, Traditional Chinese Medicine and NAET allergy elimination treatment.
Dr. Wang is a registered doctor of Traditional Chinese Medicine, a registered Acupuncturist in BC and is an instructor at the International College of TCM of Vancouver. Her therapy benefits from 15 years as an M.D. in China and in total she has more than 28 years of clinical experience. Dr. Wang is also certified in Allergy Elimination techniques (NAET).
Dr. Wang's practice is covered by most extended health plans and is fully insured.
Since 1997, thousands of patients from Great Vancouver area and many other countries (US, Germany, Scotland, Japan, Korea, etc) have received her effective treatments.
Dr. Wang administers unique and customized Acupuncture Vancouver treatments to her patients based upon individual patient assessments. She is known to be gentle, dedicated and caring to her acupuncture patients. A variety of treatment techniques are implemented such as traditional acupuncture, both with and without electro-stimulation, moxibustion, cupping, deep tissue massage, heat therapy and various herbal remedies.
Acupuncture Vancouver treatments are pleasant, relaxing and painless. Currently, Dr. Wang is accepting new patients to her practice.
To learn more about how Dr. Wang can help you, see Acupuncture Services or Learn About Acupuncture or FAQ. If you should have any questions or concerns about how Acupuncture, Traditional Chinese Medicine or NAET allergy elimination can better your health, please contact Dr. Wang via email or phone at (604) 301-9118.
Sungwoon (Sung) Tjen
Registered Acupuncturist (R.Ac.) of College of Traditional Chinese Medicine Practitioners and Acupuncturists (CTCMA) of British Columbia
Specialized in Pain Management Therapy, combining with Tuina, acupressure and Sports massage techniques
Bachelor of Science (B.Sc) degree at Simon Fraser University
Working days: Tuesdays and Wednesdays / Spoken languages: English and Korean
Ryan Jaw (R.Ac.) 趙傳義
Registered Acupuncturist of College of Traditional Chinese Medicine Practitioners and Acupuncturists (CTCMA) of British Columbia
Graduated with Specialized Honours in Kinesiology and Health Science from York University, Toronto
Specializes in Soft Tissue Injuries using a combination of special manipulation techniques, acupuncture and rehabilitation therapy exercises.
Working days: Tuesday, Thursday, and Sunday
Spoken languages: English and Mandarin
For more information about Sungwoon Tjen, Lilly and Ryan, please refer to our team page
ICBC, WCB, Extended Health Plans accepted...an approved provider of Blue Cross and Green Shield.
Effective April 1, 2008 MSP will partially cover acupuncture visits for an annual total of $230. (Please check with MSP to see if you qualify)