Acupuncture Vancouver
Testimonials
"After seeing two urologists and three naturopaths, doctor Wang was the one who healed me"
I had constipation, burning sensation in my bladder and constant abdomen pain due to inflammation for a year after a stressful time in my life. After seeing doctor Wang two times per week for about two months my abdomen pain and my bladder healed. Doctor Wang helps me with issues like muscular pains, immune system, cold symptoms and cough as well. The healing starts when she enters the room. She is totally focused on her patient, carefully listens to her history and is fully engaged in the healing. She poses thoughtful questions to clarify all facets of the medical problem. Doctor Wang has years of experience as a medical doctor as well as many years of practical experience as an acupuncturist. She is very knowledgeable about Chinese medicine too. The Chinese herbs she suggested me were very effective. I have recommended consultation with her to my family members and friends for a variety of ailments and would encourage anyone considering acupuncture to schedule an appointment with her. Doctor Wang has been a blessing to me, she is a true healer.
- A.M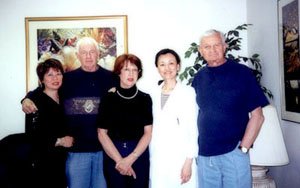 "Thank you Dr. May Wang for giving me the gift of great energy and health! "
Dr. May Wang is my angel and a blessing. She has truly changed my life. She's the only one who has been able to really help me get relief with the extreme debilitating pain I used to experience during my menstrual cycle-- in my back and abdomen. In the past, drugs worked to take the edge off but their effect wore off over the years. Increasing drug dosages was the only answer but that resulted in the increased intensity of their side-effects. The beauty of Dr. May Wang and TCM is that the treatments not only get to the root of the problem but do so without any negative side-effects. Thank you Dr. May Wang for giving me the gift of great energy and health!
- Z.J.
"Thank you Dr. May for healing my body and bringing back my health."
I was diagnosed with allergies to dust, pollen and pets at the young age of 5 and have suffered with severe symptoms for more than 40 years. As a teenager, I was in the doctor's office 3 x/week to receive allergy injections and most of my adult life I have tried every antihistamine medication on the market. No injection or medication has ever had any long term lasting effect and I struggled each year with blocked sinuses, sore throat, red, itchy watering eyes, sneezing and coughing. Basically.as soon as spring rolled around.I was an absolute mess and on extremely bad days, I was simply not able to function and had to stay in bed.
This year, my symptoms were exceptionally unbearable. After my first N.A.E.T. & acupuncture treatment with Dr. May Wang, I left her office with clear sinuses and clear eyes. My symptoms lessened after each treatment and within a couple of weeks.my allergy symptoms completely disappeared. In past, I suffered from the beginning of spring through the entire summer. Since Dr. May's initial treatments this past spring.I have not had any allergy symptoms at all. This is the first time in my life that I haven't had to take antihistamine medication every day.
Thank you Dr. May for healing my body and bringing back my health. I feel like a new person!
I would not hesitate to seek Dr. May's advice & treatment for any and all health related issues. She is truly a rare, wonderful person and extremely gifted doctor.
- Beth K.
"Dedicated, caring and skillful"
I have known Dr. May Wang for the past several years, both as a patient myself as well as referring patients to her from my own General Medical Practice. The treatments given by Dr. Wang have been most helpful in regards to reduction and elimination of painful conditions as well as general improvement of health and energy. Dr. May Wang is a very dedicated, caring, and skillful practitioner. I highly recommend Dr. May Wang.
- D.W.
"One of the best"
It is with great pleasure that I write this letter in support of Dr. May Wang. I have attended Dr. Wang as a patient for nearly two years. I first became Dr. Wang's patient at the International College of Traditional Chinese Medicine in Vancouver, where she was the instructor for several different groups of students. I observed that not only was she a thorough, caring and accomplished practitioner of TCM, but she was also a very effective teacher. Several different students in different groups remarked to me that she was "one of the best" clinicians in the college. Of this, I have no doubts.
I have been a patient of Dr. Wang's in her private practice ever since that time, where she treaded me for a variety of complaints, such as severe bursitis in both elbows, acute sciatica and an ongoing sinusitis condition.
What has impressed me the most is that Dr. Wang has always kept an open mind in her approach to my treatments, employing a variety of different treatment methods when her first attempts may not have been as successful as she would have liked. Dr. wang has used traditional acupuncture, both with and without electro-stimulation, deep tissue massage and various herbal remedies. Her choices have always led to a more effective remedy of my conditions. Her choice of herbal remedy for my ongoing sinusitis condition has been very effective, when alternative Western medicine approaches have been less successful.
I heartily endorse Dr. Wang as a practitioner of TCM and have recommended her to numerous colleagues and friends.
- Dennis
"May, you have been fantastic"
It was about a year ago when I was diagnosed with benign tremors in my hands. The doctor said that I could take prescription medicines to stop my tremors and warned me that there would be some side effects from the drugs. Furthermore, I would have to take the drugs for the rest of my life. Otherwise, the tremors would come back.
I decided to try acupuncture instead of taking drugs. Acupuncture has helped me since then. My tremors are not as bad as before. I would like to thank you for your services, I couldn't imagine taking drugs everyday. May, you have been fantastic.
- Starley
"I would recommend future patients to her"
I have seen May Wang several times in the past 2 years for acupuncture and acupressure treatments and have also referred a number of patients from my massage therapy practice to her for Traditional Chinese Medicine treatments, always with positive results. May has shown exemplary diagnostic skills and extensive knowledge in all aspects of Traditional Chinese Medicine. She conducts her treatments in a very professional, thorough and conscientious manner with care and understanding in accord with her patients' needs.
I have great confidence in May's treatment methods and it is without hesitation that I would recommend future patients to her for TCM treatments.
- Danielle
"TCM has made a big difference"


I have had eczema since my childhood, with chronic eczema and allergies for the past four years. My eczema has been particularly bad on my life, my job and my self esteem. I have tried many different types of treatment such as: health store remedies, dermatologists, homeopathic remedies, but none of those helped completely.
Thanks to Dr. May Wang's expertise in TCM, my health has improved dramatically. I have been receiving treatment from Dr. Wang for the past 10 months: acupuncture, cupping, moxibustion, Chinese herbs, and acupressure. A combination of these treatments has helped heal my body from the inside. Now my skin is clear and I am on the road to recovery with a stronger immune system and I feel like I can have a normal life again.
Dr. Wang has provided me with excellent personal care to my health concerns. Her treatments are always changing, specific to my current health needs. I truly believe that TCM has made a big difference to restoring my health.
- Sharon
"I feel relaxed and trusting in her hands"
I am now 61. Two years ago I experienced joint pain and swelling in several of my fingers, unable to wear my ring and unable to close my fingers properly. Dr. May used acupuncture directly in the knuckle joints - a little uncomfortable at first but I soon saw the results. Within 2 months the pain and swelling had almost disappeared completely. Within 4 months, I was wearing my ring again, the knuckle 'bumps' had disappeared and my finger flexibility was completely normal - ease of movement, no pain. This has remained for over a year with no additional treatments on my fingers. I also have had a diagnosis of osteoporosis in my lumbar spine and am now working with Dr. May over the long term to re-build stronger bones. Dr. May's treatment manner holds so much gentle care and wisdom, I feel relaxed and trusting in her hands.
- Diana
"May, I thank you again for giving me my life back"
I came to you in absolute exhaustion from not being able to breathe normally. After years of therapy with a Naturopath and a Homeopath I had given up hope. My asthma had gotten the best of me. I had to stop my workouts at the gym because any physical activity worsened my condition. the constant cough and struggle for breath had left me exhausted, unmotivated and all aspects of my life was suffering.
After my very first visit, I noticed the whizzing had stopped and after several more visits with the combination of your herbs and various therapies including but not limited to acupuncture and cupping I have my life back.
In a matter of a month and a half, I am back in the gym again. I can't remember the last time I was able to workout with such strength and enthusiasm. I am enjoying all the new cardio machines and am now thinking of taking up running. I have lost some weight, toned my body, can breathe without the help of inhalers or other aid. My focus and motivation is back and I feel wonderful.
May, I thank you again for giving me my life back.
- Vena
"It's been a world of difference"
I suffered from unbearable allergies every spring. Spending a lot of money on over the counter medications, I could not figure out which was worse, my allergies or the side effects. A friend recommended acupuncture. Since my first visit with Dr. Wang it's been a world of difference. No medications and I can go outside without sneezing, itchy eyes and stuffy sinuses. I have since enthusiastically recommended acupuncture to my friends and family, including taking my mother for her first treatment.
- Jeanette
"I am so thankful"
I became a patient of Dr. Wang's in December, 2004. In late October of that year I had suffered a repetitive strain injury that aggravated the osteoarthritis in my neck vertebrae, causing radiating pain that traveled from my neck to my fingertips. Immediately after the injury occurred I was treated with physio therapy, chiropractic therapy and massage therapy. I also received anti-inflammatory drugs, anti-seizure drugs for nerve pain and had a CT scan completed on my cervical spine. The CT scan showed ostephyte growth and disk degeneration on three of my neck vertebrae. I was told that the ostephyte growth was compromising the nerves that run through those areas of the spine. Regardless of the physical therapies that I tried, I was in pain throughout the day. The pain never abated. After receiving the CT scan, my physician explained that the two options were pain management through drug treatment or an operation to reverse the bone growth.
Throughout this ordeal I had been wondering if acupuncture would be of help. As luck would have it, a good friend had been finding relief through treatment with Dr. Wang and she suggested that I make an appointment.
From my second visit with Dr. Wang, after she treated me with massage, heat and acupuncture, I had five pain free days. These were the first pain free days in two months. This soon lengthened to seven days and I am now able to take two weeks between treatments.
I have been amazed by the results that I have received from Dr. Wang's work. Her treatments are gentle, effective and lasting and Dr. Wang is a genuinely kind and caring physician. I am so thankful for my friend's referral and I recommend Dr. Wang to anyone who is in physical distress.
- Janice
"Improving with every treatment"
I am a 52 years old female patient of Dr. May Wang. ··· When I first started treatment with May, I had a list of symptoms a mile long. They included; vertigo, nausea, dizziness, headaches, tinnitus (ringing in the ears), pain in ears, head pressure, full body spasms, tic in eyes, tingling in hands and feet, and many, many more (including nerve damage). Today I am, thanks to May, down to 2-3 symptoms, which are improving with every treatment.
I am extremely pleased with my treatments from Dr. May Wang and I'm always recommending her to everyone I talk to who need help with their health.
- Jo-Ann
"Thank you Dr. May Wang"
I have eczema and asthma since childhood and for years it was much better until I came to Vancouver, since then my eczema flared up quite due to the change of weather and developing allergic reaction to my dog! The eczema was mostly on my armpits, face and neck and for 3 years I have tried Chinese herbal medicine, vega testing with food elimination diet, colon therapy, massage therapy, vitamin therapy and acupuncture. I found that acupuncture was the most effective treatment, because I had really red bumpy rash on my face and after one session the redness was lot less. So in the beginning I went there 3 times a week for 2 months, then once a week and once every other week. My skin is a lot better now, less itchy and the skin is more moist which means that my body is more balanced. Also Dr. Wang used muscle testing which also helped because eczema can also be caused by food sensitivity. Thank you Dr. May Wang.
- Ada
"Appreciation from a mom whose daughter has eczema"
My daughter, Justine, now 9 years old, has had eczema since birth. It has been a journey of prayers and following God to find healing. We began NAET treatments more than 4 years ago. Dr May Wang is our third NAET practitioners and by far the one that has shown us the most dramatic results.
In spring 2010 Justine had an especially severe allergic reaction to grass and trees. After returning from a trip in Las Vegas in mid March, her eczema flared up very quickly and severely. It was practically all over her body but her face, the back of her hands and wrists were the worst --- angry red, swollen and weeping. She could only make an "O" shape with her mouth as her face was stiff and painful from the swelling. After one NAET treatment for grass and trees, the results were dramatic --- the angry red gradually browned out; swelling subsided, weeping dried up and Justine began shedding layers and layers of dead skin like a snake. After each layer of shedding, her skin looked better. In one week's time, 2 treatments later, she was 80% better.
We continue to see Dr Wang to gradually clear up Justine's allergies. As a seasoned mom dealing with eczema for more than 10 years, we are grateful for Dr Wang's care. She is true to her profession yet thoughtful, open minded and responsive to my suggestions to try different ways to help Justine.
I would be delighted to recommend Dr Wang to a prospective patient.
- Grace Li
Thank you cards